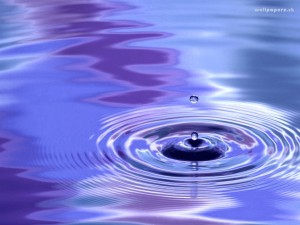 With unemployment at about 4%, the Georgia Department of Labor reports that there are over 5,000 unemployed persons in Coweta and Fayette Counties. If you include other affected members of these households to the total, you would have more than enough people to fill Phillips Arena!
There is a strong connection between the loss of one job and the effect on the entire community, and on the community of faith. This is the ripple effect of unemployment.
Here's how unemployment starts with one person and goes on to affect the entire community:
Our Finances and Our Futures
Unemployment puts tremendous stress on our finances; COBRA may even add to our expenses. We struggle to pay the mortgage; homes are at stake. College tuition is at risk. Retirement funds are depleted. Financial pressure adds stress; stress affects performance, health and relationships.
Our Self-esteem and Our Health
Job loss is the seventh most difficult life change to deal with, according to Dr. Richard Rahe's well-known Life Change Index. Job loss increases the chances of experiencing a stress-related illness. Almost everyone must deal with depression if his or her campaign lasts more than a few weeks.
Our Marriages and Our Families
Marriages are stressed to the breaking point; families teeter above the great chasm of divorce. Some marriages fail. Families are forced to move and leave their support systems of family and friends behind. Children and aging parents get lost in the shuffle.
Our Churches and Our Ministries
Some people withdraw and come to church less often (or not at all) because of embarrassment and depression. Most unemployed people are not able to keep up with their pledges; budgets, ministries and missions suffer.
Our Community and Our Nation
Unemployment hurts the local tax and national tax base, property values and local businesses. Each dollar "turns over" seven times before it leaves the community. If the economic impact on a job seeker is $15,000, the economic impact on the community is $105,000.
Job Loss Leaves No One Unchanged
Ultimately job loss affects our relationship with God. The kingdom of God is at stake!
With hardship and challenge comes tremendous opportunity. Job loss leaves no one unchanged. For some it's a positive change, for some it's not, for most – the outcome hangs in the balance.
At JobSeekers, we share with God's people who are in need. This message from Paul sums it up: "Be devoted to one another in brotherly love. Honor one another above yourselves. Never be lacking in zeal, but keep your spiritual fervor, serving the Lord. Be joyful in hope, patient in affliction, faithful in prayer. Share with God's people who are in need. Practice hospitality." (Romans 12:10-13)
A Positive Force for Change
JobSeekers is a positive for force change in the life of the JobSeeker, the church and the community. Our vision is to help our members find good jobs, close to home, in minimum time. We want to do that for more and more people in the South Metro Atlanta community.