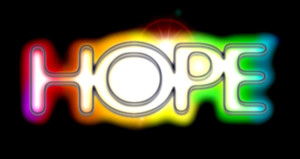 "Man can live about forty days without food, about three days without water, about eight minutes without air… but only for one second without hope." – Hal Lindsey
Every now and then I get a hint that the positive energy that is so evident at a JobSeekers meeting is a turn-off to some. Some people have a very difficult time embracing hope when life seems hopeless; seeing the new day dawning when they are in their darkest night; expecting a great outcome when all they can see is a train wreck in their rearview mirror. Hanging out with folks who are at odds with your present view of life can be a real downer!
Some members of JobSeekers who didn't lose hope.
A few years ago we had a member named Paul who gave a very rousing testimony about the ups and downs of his job long search. I admired his transparency because all of us have felt the emotions he's felt, we just wouldn't describe them in detail to 30+ people! For instance, he said Friday was the only day of the workweek when he knew he'd have to get out of his pajamas and get dressed for work. Even when he was down Paul came to JobSeekers.
Paul also told us about a rejection letter he received; it said, "After prayerful consideration, we've decided to go in a different direction." Paul really wanted that job; of course he was disappointed. Five minutes later, the phone rang and an offer from another company came in. He accepted. Paul didn't lose heart, and he didn't lose hope. He looked for a job even when he didn't feel like it.
Another job seeker sent me an email right after she had accepted a new job. She said she had been working a "dead end" job for three months. She told me how discouraged she had been and wrote: "Don't back down on your encouragement to others! When I would attend the meetings and hear encouraging words from others who had 'been there,' I was like, 'yeah right, but I need a job!'"
As I reflected on her message, I thought of this verse from Psalm 34:18: "The LORD is close to the brokenhearted and saves those who are crushed in spirit."
Folks, if you are down and out, come to JobSeekers. If you aren't in the same place as many of the other folks, that's okay! We want to meet you – and God wants to meet you – right where you are. If you are in a depressed state right now, remember that it is – or it can be – a temporary state, just as it was for these two people. Get the help you need to pull yourself out of the pit of despair. One good place to start is at JobSeekers of PTC on Friday morning. Don't lose heart, and don't lose hope. The LORD is close and he will save you. It starts when you turn to him and ask for help.
The lady who wrote the email found out that God was working for good all along, even though she couldn't see or feel it. She finished by saying, "It has taken a lot of prayer and patience and a lot of dead-end interviews, but the miracle is that this firm was not advertising for someone, but somehow they found me! Tell me that wasn't God's hand in it!"
In May 2006 I spoke to fellow named Phil, a client and job seeker who'd been having a tough time – he had come close on several opportunities during his search, but couldn't seem to get one across the finish line. His latest disappointment was that he'd not heard back from the hiring manager about a job he really wanted. We made plans to have lunch and a strategy session the next day. Monday night at 9:15 the manager called and offered him the job, so we celebrated instead. Since then Phil has changed jobs and careers and he's never been happier.
Click here for one more example.
The Psalmist didn't loose hope.
I show Psalm 42 to my clients sometimes. The Psalmist is in agony, lamenting the days of old when things were good: "My tears have been my food day and night." But here's what I point out: even though his spirit is crushed, he says he will continue to praise God: "Why are you downcast, O my soul? Why so disturbed within me? Put your hope in God, for I will yet praise him, my Savior and my God." The Psalmist didn't loose heart, and he didn't loose hope.
With Christ, we always have hope, no matter how poorly things are going at the moment.
You never know how close you are to landing a job – but you've got to keep doing the things that lead to success. Come to JobSeekers this week. Keep the faith. Keep trying. Don't lose heart. Don't lose hope. Brighter days are ahead.
See you on Friday at JobSeekers, the place where God turns despair into hope!
Copyright © 2004-2019 / Dave O'Farrell / All Rights Reserved