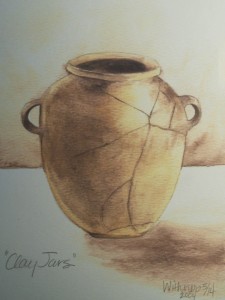 When I think about job seekers and the challenges we face during career transition, sometimes I think about potters and jars of clay. It's mentioned in chapter four of Experiencing God by Henry Blackaby and Claude King. My church uses handmade pottery to serve communion to small groups. I have a beautiful watercolor painting of a clay jar in my office that was created by former JobSeeker Lori Marcum.
Clay in the Hands of the Potter
Both the Old and New Testament use clay as a metaphor. In the OT, we are described as clay in the hands of The Potter. Isaiah 64:8 says, "Yet, O LORD, you are our Father. We are the clay, you are the potter; we are all the work of your hand." We are being transformed into the image of God and of his son Jesus. It is amazing what can be accomplished, and how we can be transformed, when we place ourselves in The Potter's hands.
Here's the same metaphor used in Jeremiah18:1-6: "This is the word that came to Jeremiah from the LORD: 'Go down to the potter's house, and there I will give you my message.' So I went down to the potter's house, and I saw him working at the wheel. But the pot he was shaping from the clay was marred in his hands; so the potter formed it into another pot, shaping it as seemed best to him. Then the word of the LORD came to me: 'O house of Israel, can I not do with you as this potter does?' declares the LORD. 'Like clay in the hand of the potter, so are you in my hand, O house of Israel.'"
We get marred on this journey of life, and yet The Potter forms us into another pot. What new pot is the Lord shaping you into?
Jars of Clay
In the New Testament, we are described as jars of clay. First Corinthians 4:7 says, "But we have this treasure in jars of clay to show that this all-surpassing power is from God and not from us." It's only we when go through the kiln of life that we become shiny and strong. Yet our earthy bodies are nothing compared to the extraordinary bodies we will have in heaven. Paul makes one thing known for sure: these earthly bodies, fragile though they are, can hold God's treasure — his all-surpassing power.
As you experience your job search, and with this in mind, ask God these three questions:
1. Lord, what do you want me to learn as I go through my job search?
Oftentimes, we put lids on our jars that prevent us from hearing God's gentle leading or from receiving His blessings. Open your eyes and ears, hearts and minds to the leading of His spirit. Respond to His call. For instance, here's what a JobSeeker wrote one time:
"He's TRULY A GOOD GOD, because even when I gave up on myself, He never gave up on me. There was one thing I especially learned through my journey: I had to give up on myself in order for Him to work on me. Please let everyone know that I am praying for all of them. God will move in our lives on His time, not ours."
2. How do you want me to change?
Allow The Potter to mold you into the person he wants you to be. Einstein's definition of insanity applies. To get a different result, we have to think differently, do things differently and become a different person. One fellow that I met with said "I am a spiritually changed man because of this 16-month job search." Shortly after that he received an offer out of the blue (or from Heaven above?) on a position that was dead two months earlier. God is good.
3. Who do you want me to serve in your name?
This job search is not about you only; it's about how you are going to use the talents God has given you to serve his purposes here on this earth. We receive blessings so that we may be a blessing to others. Whether it's through your vocation, avocation – or just the selfless gift of your time and energy, serve others. Some of the best therapy I've ever experienced is when I've helped others. Ask God to fill your jar up so that you can pour his blessings on others.
If you do this — learn, change, serve — you will be ready to withstand the hardships associated with job search. Listen to the next two verses in 1 Corinthians 4:8-9: "We are hard pressed on every side, but not crushed; perplexed, but not in despair; persecuted, but not abandoned; struck down, but not destroyed." No matter how badly things are going at the moment, God will never leave you nor forsake you.
See you Friday at JobSeekers; the place where we fill our jars up!
Copyright © 2004-2019 / Dave O'Farrell / All Rights Reserved