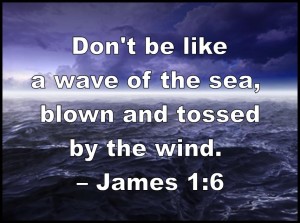 Our topic this Friday is "Declaring Your Position Objective." I like this quote from James: "Don't be like a wave of the sea, blown and tossed by the wind." This quote from Stephen Covey also applies: "begin with the end in mind."
Oftentimes when I do the diagnosis on why someone has been looking for a job for six months or more, the absence of this essential element is one of the top three reasons for their lack of success. With it, you see new possibilities and open doors every day. Without it, you struggle to tread water in the hostile seas of unemployment.
The Position Objective Statement (POS) is used in networking communications. For some, this is one of the most difficult things they must in their job search — decide what they want to do next. Without an objective you are like a wave of the sea — blown and tossed by the wind. With it, you have a sharp focus that helps you sift through all the clutter and work toward a specific goal.
Come JS on Friday to develop and practice your POS.
– – – – –
JobSeekers meets every Friday morning at First Baptist Church in Peachtree City from 7:30 to 10:00 am. First Baptist Church is located at 208 Willow Bend Road.
Click here for directions and agenda.
See you on Friday!
– Dave O'Farrell
Executive Recruiter, Outplacement Consultant
O'Farrell Career Management
"Atlanta's most effective career services firm."
# # #