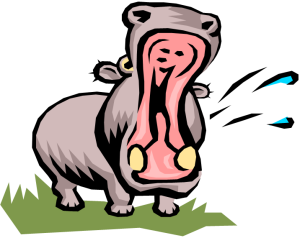 Been looking for hippos lately? If not, I recommend you come to JobSeekers on Friday. You'll learn to look for hippos, and then to execute them.
Hippos are one of the key elements that determine how soon and how successful you are in your job search. Hippos are also critical to sales people, sales managers, executives and entrepreneurs. Come tomorrow and learn how to find and execute "hippos."
Hippos, by the way, are "high payoff activities." In 26 years in the career management business, I've met only of handful of people who truly live by the concepts I will teach on Friday.
– – – – –
JobSeekers meets every Friday morning at First Baptist Church in Peachtree City from 7:30 to 10:00 am. First Baptist Church is located at 208 Willow Bend Road.
Click here for directions and agenda.
See you on Friday!
– Dave O'Farrell
Executive Recruiter, Outplacement Consultant
O'Farrell Career Management
"Atlanta's most effective career services firm."
# # #